This painting is called 'Self-Portrait with Thorn Necklace and Hummingbird' by Frida Kahlo,this is the painting chosen for the April ABS Challenge, you can read about the artist and the painting
here
. I have to fess up now and tell you that I didn't manage to produce a piece for April!! Walks away with head bowed in shame. I did make a bead but I wasn't at all happy with it, I might get around to photographing it for you. Truth is my mojo went for a serious walkabouts, in fact I would say it went on holiday for practically the whole month of April. I don't know why it happens but sometimes I just can't get motivated to get in the workshop and make. All is not lost, I can come back to this painting and perhaps get inspired another time. There are some amazing pieces and beads inspired by this painting, you can find them on the
ABS Pinterest Board
.
I did however, treat myself to a bead or two during the month of April. I bought: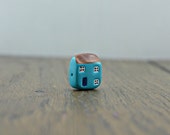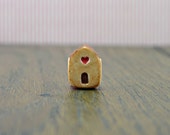 Three cute houses and set of large faceted beads from
Ditsy Blue
Some gorgeous ceramic pieces from
Round Rabbit
but unfortuately I don't have pictures I can share at the moment. I also bought some stunning ceramic beads made by Golem. I have lusted after some Golem beads since I saw some used in a project in Lori Andersen's' Bead Soup Party' book. They are currently being stocked in the UK by
Buttoned Up Beads Extra
Here is what I have made so far:
The earrings and bracelets feature my own wirework using inspiration from Cindy Wimmer's
The Missing Link
I am really pleased with how these turned out and I'm hoping to make a stock of the ear wires, headpins and links to sell in my
Folksy Shop
soon.
The necklaces are strung onto long leather thongs which can be tied to the desired length with each wear.
The painting for the May ABS Challenge is this one by Augustin Lesage an oil on canvas piece.
I love the symmetry and the colours, the blue and lilac colours are so eyecatching. Everytime I look at this piece I see something else. I'm really looking forward to seeing how this painting inspires the makers over on
Art Bead Scene
.